Cyclica and Arctoris Announce to Expand Cooperation: Accelerate Drug Discovery with AI+Robot Automation
2022-05-10

: Cyclica and Arctoris Announce to Expand Cooperation: Accelerate Drug Discovery with AI+Robot Automation
Recently, Cylica, a Canadian biotechnology company invested by the China Canada Angel Alliance (CCAA for short) managed by Zhongguancun Dahe Capital, and Arctoris, a biotechnology company headquartered in Oxford and Boston, announced that they agreed to expand their cooperation and promote the new neurodegenerative drug discovery project focusing on Alzheimer's disease. The expansion plan of this partnership was carried out after the positive results of the initial cooperation, which involved the targets of oncology and neurodegenerative diseases.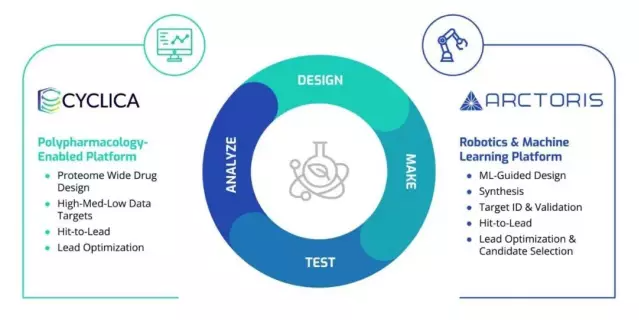 The Picture:Cyclica and Arctoris Extend Partnership Combining Polypharmacology and Machine Learning Platforms to Develop Medicines
Cyclica is a drug research and development company based on artificial intelligence. Based on the complexity of diseases, it is committed to developing innovative molecular chemical drugs. The company has innovative research technologies in the field of multi pharmacological properties of drugs, and thus more effectively promote the process of drug research and development.
So far, Cyclica has reached more than 100 cooperation projects and created dozens of joint ventures with AstraZeneca, Merck, Bayer and other large pharmaceutical companies, small and medium-sized biological research and development companies and research institutes. Cyclica has gathered a group of experienced biotechnology and pharmaceutical professionals, biologists, chemists, computer scientists, etc. to work together to make the patient's life better.
Arctoris, a biotechnology platform company based on robotics, data science and machine learning, is one of the top 20 innovative enterprises in Europe. Arctoris combines its unique automation platform Ulysses with advanced computing methods and a world-class team of experienced drug hunters to guide and rapidly promote its cooperative drug discovery program in oncology and neurology. At present, the partners include IBM and other world-class companies. It is reported that Ulysses developed by Arctoris is an end-to-end automation platform for drug discovery research. The platform uses robot experiment execution and digital data acquisition technologies in cell and molecular biology and biochemistry/biophysics to ensure accuracy, precision and reproducibility. Compared with the industry standard, experiments conducted with Ulysses generate more than 100 times more data points in each analysis, which leads to more in-depth insights and faster progress.
As for this expansion of cooperation, Naheed Kurji, the co-founder, president and CEO of Cyclica, said that, "The combination of Cyclica's platform and capabilities with Arctoris's biological detection development will enable us to produce meaningful results and promote the research and development of Alzheimer's disease and other neurodegenerative diseases. Our two professional fields have great potential for integration, and we are very optimistic about the impact of this cooperation on patients.
Dr. Martin Emmanuel Bittner, CEO of Arctoris, said: "Our joint drug discovery program focuses on dual specific inhibitors, which is a very promising but also challenging model. Cyclica is one of the leaders in this field, and uses its molecular design based on structure and artificial intelligence to conduct multi pharmacological research. In Arctoris, we have established special expertise in complex enzymology and advanced neurodegenerative cell models. This is a highly collaborative partnership Department, I am very glad that we can jointly achieve this goal for patients around the world in the field of indications in urgent need of new and better treatment options.Cyclica and Arctoris have a long-term plan for their partnership because they have started to discuss other treatment goals.